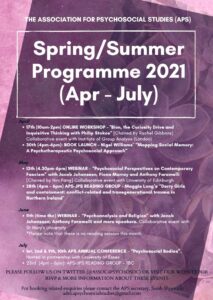 Study Group Convenor: Association for Psychosocial Studies (APS) / Journal of Psychosocial Studies
Please join us for our monthly online reading groups where we will be coming together and discussing topical articles drawn from the Journal of Psychosocial Studies.
These reading groups are free to attend and open to all. You will need to register via the Eventbrite link. All registered attendees will be sent a link to join a Zoom call before the event.
April
17th 10am – 2pm: Bion, the Curiosity Drive and Inquisitive Thinking. An on-line workshop offered in partnership with Institute of Group Analysis (London), with Philip Stokoe. Chaired by Dr Rachel Gibbons. Register here.
30th 4pm – 6pm: APS Reading Group: Book Launch, Nigel Williams' Mapping Social Memory: A Psychotherapeutic Psychosocial Approach – Register here.
May
The past five years have been marked by a growing visibility of the threat posed by the extreme Right and the global birth of the so-called manosphere and the Alt-Right movements.
To address these pressing issues requires a psychosocial approach, that is an approach that is able to analyse both unconscious and subjective micro-fascist formations as well as the way in which micro-fascism scales up and infects social bodies.
Drawing on psychoanalysis, schizoanalysis and affect theory, this webinar will examine the growth of contemporary fascisms, the role digital media plays in their propagation and how online extremism manifests as offline violence.
In this webinar, Anthony will share his work on: "everybody wants to be a fascist online: Schizoanalysis and the Alt-Right", and Jacob on "Incels and Fantasies of Destroying/Desiring the Other".
June
Thursday, 10th 3.30-5.30pm: Psychoanalysis, Culture and

Religion

in Times of Conspiracy Theories and Fake News with Peter Tyler, Mark Murphy, Jacob Johanssen, Anthony Faramelli. Hosted in partnership with St Mary's University
Psychoanalysis, Culture and Religion in Times of Conspiracy Theories and Fake News
We live in a time that is characterised by increasing political polarisation, fake news, conspiracy theories and other forms of extremism. Social media such as Facebook, Twitter or Instagram are often characterised by misogyny, sexism and racism and as lacking in empathy, compassion and love.
This seminar will explore what role psychoanalysis in combination with
religion
can play in analysing such phenomena, as well as finding possible solutions for them. Recent political developments, such as the Trump presidency, have been credited with an increase in political paranoia and conspiracy theories have spread far and wide on the internet. Contemporary forms of conspiracy thinking, such as QAnon, have led to the establishment of communities which, to a degree, have quasi-religious characteristics.
This seminar asks how our contemporary age can be analysed through the prism of post-Freudian psychoanalysis and religious studies. Do we need a new form of spirituality? What can a psychoanalytic understanding of religion offer in analysing the phenomena described above? What can psychoanalysis and religion learn from each other in the present moment? How do religious understandings of hope, love and compassion figure in times of seeming uncertainty, mistrust and fantasies?
Speakers:
Peter Tyler (St. Mary's University): Nietzsche and his Influence on Freud and Jung

Mark Murphy (St. Mary's University): Freud, Lacan and their Approach to the "Mystical"
Anthony Faramelli (Goldsmiths): The Alt-Right and Religion: The Death Drive in American Evangelicalism  
Please note there will be no reading group this month
July
Association for Psychosocial Studies annual conference: Psychosocial Bodies, July 1, 2,3,9 and 10th hosted in partnership with University of Essex. Click here for more information
23rd 4pm – 6pm: APS Reading Group: TBC