The Association for Psychosocial Studies was formed in 2013 and it aims to develop new understandings of the interrelationships between social, cultural and psychological meaning and experience in different contexts.
Latest News
Psychosocial Events

Psychosocial thinking is needed more than ever in these times. We hold regular monthly online reading groups and  face to face or hybrid events. Please click on Events, Past Events and Recordings of Past Events for more information.
Counselling and Psychotherapy in Times of Political Violence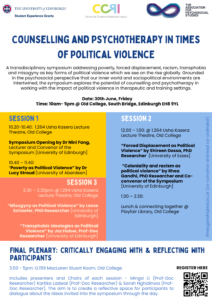 Shame in Shakespeare's Macbeth

A special theatre workshop, organised by APS Prof Candida Yates, The Freud Museum in partnership with Bournemouth University's Centre for the Study of Conflict, Emotion and Social Justice (CESJ), and The Faction.
Freud had a lifelong fascination for the works of Shakespeare, most notably Hamlet, but also Macbeth, which he analysed at length in a paper entitled, 'Some Character-Types met with in Psycho-Analytic Work' (1916). This workshop, held at the Freud Museum London, explores the theme of shame in Shakespeare's Macbeth; how it helps to trigger the initial regicide, and is then reactivated in the various attempts to 'cover over' the crime later on. Scenes from the play will be performed by actors from the award-winning theatre group The Faction, which will help shape our discussion of the different manifestations of shame that appear throughout Shakespeare's great Jacobean tragedy.
More information and registration
Content Moderation and Its Discontents: An International Conference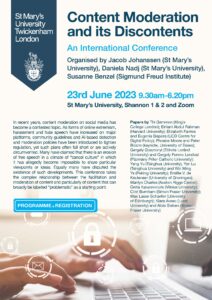 Content Moderation and Its Discontents
An International Conference, co-organised by Jacob Johanssen, 23 June 2023, St. Mary's University, London
RECENT EVENTS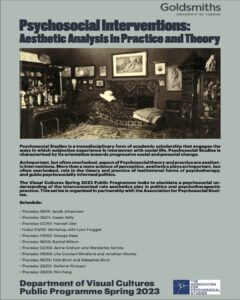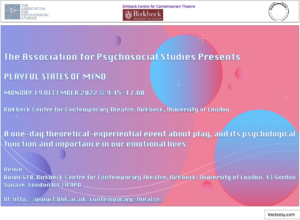 Playful States of Mind
Organisers: Lynn Froggett, Noreen Giffney and Candida Yates
Venue: Birkbeck College, London
Date: Monday 19th December 2022 (all day)
What do the terms 'play', 'playing' and 'playfulness' mean in different contexts? How might we understand play as both a doing and a being; an activity and a state of mind? In what ways might play be related to creativity and destructiveness? What kinds of feelings might be enacted, evoked or contained while engaging in moments of play? How do we play and what might we be communicating to ourselves and others, consciously and unconsciously, in our play and in the ways in which we play? Why is a capacity for play so important for our mental health and general wellbeing? How might psychoanalysis and psychosocial studies help us to reflect on our experiences of play? These questions will frame our event.
This event will offer a series of immersive experiences centred around play, to help us to reflect on and talk about our individual and collective encounters with play. The emphasis will be on experience, reflection and conversation. Participants are encouraged to wear comfortable clothing and be prepared for an encounter with the unknown.
This event will appeal to anyone interested in play, imagination and creativity. It will be of particular interest to psychoanalysts, psychotherapists, psychologists, counsellors, group analysts, play therapists, creative arts therapists, social workers and social care workers, mental health workers, youth workers, artists, performers and curators, as well as academic researchers and students in the fields of psychosocial studies, cultural studies, and in the arts, humanities and social sciences more broadly.
Places are limited so early registration is advised. Participants are requested to register only if they are available to attend the whole day, as this event makes use of a group experience.
_____________________________________________________________________________________________________________
APS are an established learned society, bringing together researchers, teachers, practitioners and students from different fields who are interested in contributing to the development of this exciting inter/trans-disciplinary field of study.
We organise regular conferences, seminars and workshops that explore a wide range of psychosocial phenomena and perspectives. We seek to promote the field of Psychosocial Studies and to challenge the often rigid disciplinary distinctions that characterise the social sciences and the humanities in contemporary university settings and beyond. The Journal of Psychosocial Studies is the official journal of APS.
The APS acknowledges with gratitude the following Institutional Founding Sponsors:
Birkbeck, University of London; London School of Economics & Political Science; The Open University; University of East London; University of Sussex; University of Brighton; British Psychological Society Social Psychology Section, University of Central Lancashire.