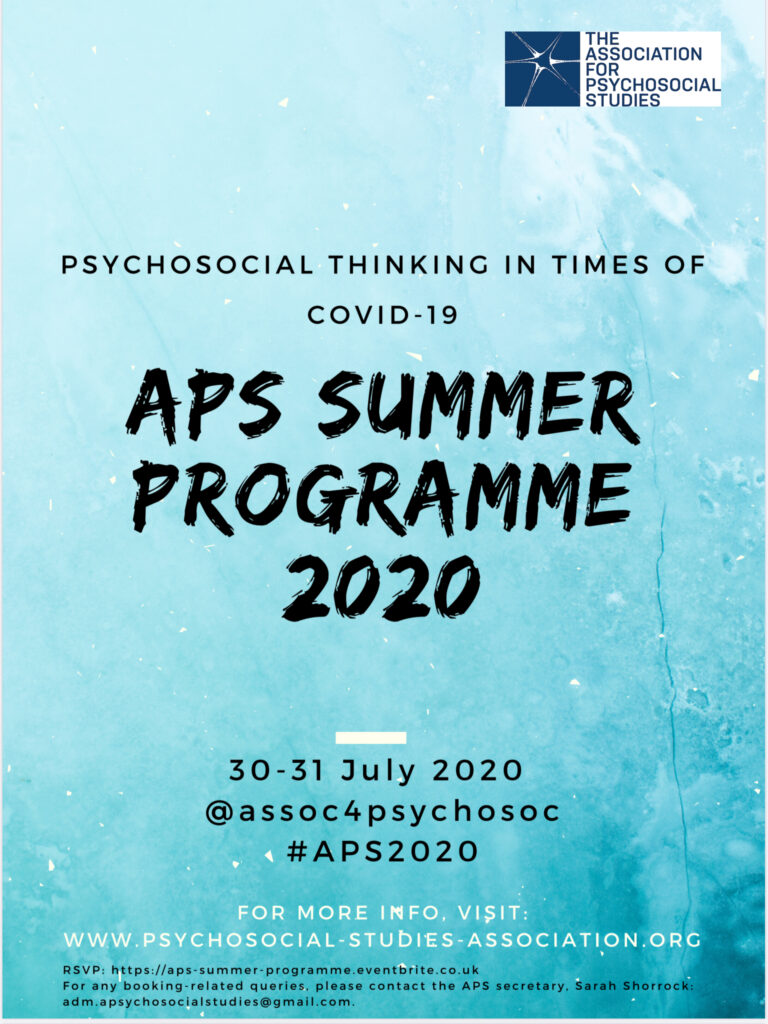 View the digital booklet of APS Summer Programme 2020.
Like everyone, APS members are working under very altered and potentially isolating circumstances and it was with great regret that we had to postpone our 2020 conference on The Psychosocial Body at the beginning of June. However, we believe that psychosocial thinking is needed more than ever in these times and we have therefore devised a free online programme – "The APS Summer Programme 2020"!
30 July

30 July – 10-12pm – Online Webinar: Psychosocial Technologies – Love, Sexuality and Relationships
Professor Candida Yates (Bournemouth University
Professor Lynn Froggett (University of Central Lancashire) and Dr Lizzie Muller (University of New South Wales)
Dr Steffen Krüger (University of Oslo)
Dr Jacob Johanssen (St. Mary's University)
This panel proposes to interrogate contemporary technologies (algorithms, artificial intelligence, robotics, assistive and bio-technologies) and the cultures forming around it (including social media and online pornography) from a psychoanalytic-psychosocial perspective. All papers pay specific attention to relationships, forms of connection, sexuality and love. The four panellists analyse the affective relationships between technology and human subjectivity through film, exhibitions, and exemplary discourses from social media in order to enquire into the conscious and unconscious dynamics emerging from machine-facilitated human interaction. Wider socio-political contexts and conjunctures will also be addressed.
Panel Abstracts:
Digital Intimacy and The Potential Pathologies of Masculinity in Spike Jonze's Her (2013)
Professor Candida Yates (Bournemouth University)
This paper is linked to psycho-cultural research that I carried out a few years ago on the relationships between masculinity, emotion and cinema. In that research, I used Christopher Bollas and D. W. Winnicott to explore the notion of 'good-enough masculinities' as being linked to less idealized and split off modes of masculinity in the cultural sphere. Today, against a backdrop of toxic masculinity and its cultural forms of representation together with the growth of digital culture, it is timely to return to debates about mediatized masculinities and their potential for affective attachments in the contemporary moment. To that end, I use Spike Jonze's film Her (2013) as a case study to focus on the potential pathologies of digital intimacy and its psychosocial relationship to the cultural instabilities of masculinity and male fantasies of possession and desire in a digital age. Despite the opportunities afforded online for new modes of connection and relational desire, such technology also provides in a negative vein, new opportunities for problematic forms of mastery over the object. As I discuss, such technology may be used as a way to defend against difference and the disappointments of intimacy and attachment in relation to embodiment and, as we see in the film Her, the difference represented by the threat of embodied femininity.
Loving Machines: Post-Human Anxieties and Human Bonds
Professor Lynn Froggett (University of Central Lancashire) and Dr Lizzie Muller (University of New South Wales)
The fantasy that technological innovation will save the planet from ecocide and humankind from itself was explored through public responses to Human + Future of the Species – an exhibition that has toured internationally and was staged in Singapore's Art Science Museum in 2017. This show addressed a range of 'post-human' anxieties provoked by adaptations of the body through assistive machines, robotics and bio-technology.
Visual Matrix methodology that uses a group-based associative process captured responses of three groups with educational, assistive and occupational investments in these technologies: technical design students, engineers, and a group with disabilities, so revealing profound anxieties aroused by the assault entailed on 'inner' and 'outer' Nature – and the impact on work, care, sex and death.
The group with disabilities focussed on the myth of perfectibility, the 'designing out' of bodily impairment and the surrender of sensuous human 'holding' to the insentient grip of unthinking machines. While all three groups struggled with the idea of fallibility only the disabled group foresaw a future in which fallibility is recognised as essential to human bonds. We ask why they appeared less dissociated and more able to work their way through the existential challenge of the exhibition to envisage a world worth living in.
Anal Sexuality and Male Subcultures Online
Dr Steffen Krüger (University of Oslo)
The paper interprets the salience of dirt and excrements in online male subcultures from a psychoanalytic perspective. Drawing on works by Sigmund Freud, Melanie Klein and Donald Meltzer as heuristic tools, it offers an understanding of both the computer nerd culture of the infamous 4chan forum of the late 2000s and Incel culture (i.e. men defining themselves as 'involuntarily [sexually] celibate') of the late 2010s that is grounded in these cultures' performances of anal sexuality. It traces the development of this sexuality from the sadistic-aggressive acts of discharge characteristic of 4chan nerd culture to the masochistic displays of self-deprecation in Incel culture. Whereas the former function as the drawing of boundaries between the subcultural sphere and that of the cultural mainstream, the latter take the provocative performance of sexual immaturity towards the point of a catastrophic loss of control. These performances have political implications, and particularly the fantasy of being out of control suggests a fatalistic reaction to – and against – those who are given the blame for one's castrated state.
NoFap and the Struggle over Phallic Mastery
Dr Jacob Johanssen (St. Mary's University
This talk focuses on the anti-pornography and anti-masturbation community NoFap and its official forum NoFap.com. NoFap is a self-help forum where men (and some women) who describe themselves as being addicted to porn discuss strategies and document their journey of kicking their addiction. While NoFap is less explicitly shaped by alt-right ideas than other contemporary male communities, many men nonetheless portray a problematic understanding of women and unwittingly demonstrate how their desires and images of femininity have been shaped by porn. I focus on a particular porn genre, which is discussed in many threads on NoFap.com, 'sissy hypno porn' (videos that aim to emasculate men and 'hypnotise' them into being women). NoFappers see a feminist conspiracy at work behind such content and speculate who may be behind it. I argue that such speculations demonstrate a fear of their own unconscious and its productive force.
2.30-4pm: APS/JPS Online Reading Group

We will discuss the article Difference, whiteness and the group analytic matrix: An integrated formulation by Dr Guilaine Kinouani
Abstract:
I am a black woman.
This statement may trigger various responses and, perhaps even the urge to disengage. Nonetheless I write it as a social fact. Firstly, to forewarn the reader that the lifeworld they are about to enter may well challenge theirs and, to correct potential erroneous, normative, racial and gendered assumptions. I trust readers will stay with any potential discomfort. Read on. And, reflect upon it at the end of the article. I am too a psychologist and aspiring group analyst. This social and professional positioning means that I have heard many conversations on 'difference' where I, and others whose bodies look like mine, have been placed under the deforming microscope of the white gaze, for the alleged edification of my peers, one of the most objectifying encounter I continue to experience. There is a long history within western epistemic, ontological and other scholarly pursuits of normalizing whiteness, of regarding those 'deviating' from it as 'different' and, of subjecting them/us to investigation, curiosity and/or exoticisation. Ultimately, to consumption. Group analysis is no exception. Difference is a historically loaded term built on the brutality of white masculinist and heteronormative social constructions and thus, on the enactment of power related violence. Central to formulating the function of 'difference' and of such brutality between individuals and groups, is the group analytic concept of the matrix. Foulkes (1973), conceptualized it as a hypothetical web of communication and relationships providing the group a shared ground of meaning and significance. This article aims to critically examine the concept of the matrix with reference to race and specifically, to whiteness. It argues that fixating difference onto people of colour, serves fundamental functions for whiteness by linking this process to Foulkes' concept of location of disturbance. In the second part, the group matrix and whiteness are considered. Finally, using various vignettes, a formulatory framework is suggested to illustrate how whiteness may be reproduced within different levels of the group matrix.
4pm: Social Event: APS/JPS Virtual Lounge
We appreciated that social has been a key part of psychosocial (and gladly acknowledged that it is not the other way round!) and have created this social event at the end of the first day of the conference.
Join us in this virtual lounge to enjoy a deliberately informal gathering!
31 July

10-11.30am – Virtual Workshop – Online Social Dreaming Matrix
Host: Lita Crociani-Windland  (University of the West of England) &  Anne-Marie Cummins (University of the West of England)
Social Dreaming workshops were originally developed by Gordon Lawrence as a means of consulting to organisations in a way which could go 'beneath the surface' to the unconscious preoccupations, images and phantasies that are ever-present but often unsurfaced in organisational life. Since then Social Dreaming has been developed in ways which take it outside of organisations and into community and community research. It is an experiential event in which we offer dreams and free associate to them to work towards a collective sense of patterns emerging from them. By pooling and connecting our dreams and associations we aim to 'take the pulse' of broader social realities and surface common concerns and creative possibilities.
The space for coming together to share and explore our dreams through an associative process is known as a 'matrix'. The word 'matrix' comes from the Latin for womb, and is used to denote a place of containment for creativity and emergence. A "host" provides support to the matrix, guiding our journey in sharing, associating to and making sense of our dreams. The word "host" is used to introduce the idea that the matrix is not a group to be facilitated or led but an open space for containing and working with dreams and associations.
The time is spent in two phases, an initial event in which participants share dreams and associations and a reflection event in which participants do sense making of the material that arose during the matrix. The total time of the event is 1.5 hrs. The dream matrix is roughly twice the time of the reflection.
Normally the event is held in a dedicated space with a particular arrangement of chairs, known as a snowflake pattern, which distinguishes it from other group relations events.  In this time of social distancing the online event is held using Zoom.  This gives a different challenge in that the physical arrangement facilitating the focus to be on dreams and not dreamers is not available.  Please feel free not to use video if that becomes a distraction from the dream images being shared or the emergence of free associations to them, which are key to the event.
2.30-4pm: Open Forum on Anti-Racism and the Psychosocial – Organised with the Institute of Group Analysis (IGA)

Led by:
In The Association for Psychosocial Studies (APS) Statement in Solidarity with Black Lives Matter and Anti-Racist Activism (found here) we recognised the need to come together to formulate active anti-racist practices. As psychosocial academics and practitioners we have a clear theoretical framework, which is grounded in practices, to address the crisis of structural inequalities and the generational trauma of racism. APS is committed to working with academic, practitioner and wider communities to better understand the problems we collectively face and to formulate the tools necessary for the task at hand. We have no illusions that the conversations to come will be easy, but we intend to put in the work.
The APS is proud to collaborate with the Institute of Group Analysis (IGA) to host an Open Forum on racism and discrimination in order to initiate a dialog as to how we may collectively begin the task of confronting racism, in all its forms. This will be the first in a series of public events and publications to further a dialogue within our expanded psychosocial networks. This will be a space for reflection and listening in order to institute conversations that spring from shared spaces of vulnerability and inquisitiveness.
Together we will ponder:
What can psychosocial do to address and ally with anti-racist movements?
Thanks to all of you who took part in the past reading sessions. It was great to connect with you all through reading and discussions on the JPS papers. We plan to keep our reading group going and will announce information in due course – check back to discover more! 
1. May Reading session (29 May): Professor Barry Richards (Bournemouth University): Beyond the angers of populism: a psychosocial inquiry.
2. June Reading session (26 June): Dr Nini Fang (University of Edinburgh): Feeling/being 'out of place': psychic defence against the hostile environment 
Click here to listen to a recording of Dr Fang's talk
Abstract:
What is it like to be an immigrant worker in a 'hostile environment' in the UK? How does the form of discursive environment, which sees immigration as a social epidemic, impact on an immigrant worker's experience of their cultural (dis)localities and subjectivity? In this article, I draw on my personal, psychoanalytically informed voice to explore these questions, by foregrounding the materiality of the hosting environment as the place in which the present relational matrix takes place, in which the internal dynamics of object relations are lived in the present sense, and the idiosyncratic expression of selfhood assumes forms.
The materialised reality of the place matters not least because it is drenched in power relations but also as it is where an immigrant worker seeks to live. The hostile host, in this sense, sees immigrants not simply as its guests (Derrida and Dufourmantelle, 2000), but as unwelcome yet persistent guests to be yoked to their place of otherness and inferiority. By presenting vignettes of my encounters with the Home Office, I call into question the existential conditions of the immigrant worker and the potentiality for object-relatedness on relational grounds problematically punctured by hostile rhetoric. Could an immigrant's sense of locality ever be anything but – evoking Said ([1999] 2013) – 'out of place'? To address this, I will explore 'out of place' not simply as an emotional, lived experience, but also as a state of being that is embodied, psychically worked on and strategically evoked in resisting the power of the hostile host.
Author biography: Nini Fang is a lecturer at Counselling, Psychotherapy, and Applied Social Sciences (CPASS) at the University of Edinburgh. A lover of bubble tea and democracy at heart, she left her home country Taiwan and came to sunny Scotland in 2012 to train as a psychodynamic counsellor. She enjoyed the weather so much she decided to stay on and do a doctorate, which she finished in 2016 at Edinburgh. Her thesis looked at depression through Scottish theorist Ronald Fairbairn's work. Her thesis opened her up to psychosocial inquiry towards locating the individual psychic processes within the social, cultural, and political environments. Her being an immigrant worker in the UK has ensured that there is no shortage of psychosocial inspiration and she will be kept on her toes writing.