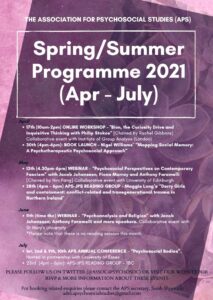 Study Group Convenor: Association for Psychosocial Studies (APS) / Journal of Psychosocial Studies
Please join us for our monthly online reading groups where we will be coming together and discussing topical articles drawn from the Journal of Psychosocial Studies.
These reading groups are free to attend and open to all. You will need to register via the Eventbrite link. All registered attendees will be sent a link to join a Zoom call before the event.
Forthcoming Events Spring/Summer 2021
April
17th 10am – 2pm: Bion, the Curiosity Drive and Inquisitive Thinking. An on-line workshop offered in partnership with Institute of Group Analysis (London), with Philip Stokoe. Chaired by Dr Rachel Gibbons. Register here.
30th 4pm – 6pm: APS Reading Group: Book Launch, Nigel Williams' Mapping Social Memory: A Psychotherapeutic Psychosocial Approach – Register here.

May
13th Psychosocial Perspectives on Contemporary Fascism webinar with Nini Fang, Jacob Johanssen, Fiona Murray and Anthony Faramelli. Hosted in partnership with University of Edinburgh
21st 3-10pm: What Can Psychoanalysis Teach Us About Online Misogyny? Jacob Johanssen: Part of Beyond the Boundaries of Discipline St. Mary's University TEDx event
28th 4pm – 6pm: APS Reading Group: Maggie Long's "Derry Girls"
June
11th Psychoanalysis and Religion with Jacob Johanssen, Anthony Faramelli and more speakers TBA. Hosted in partnership with St Mary's University
Please note there will be no reading group this month
July
Association for Psychosocial Studies annual conference: Psychosocial Bodies, July 1, 2,3,9 and 10th hosted in partnership with University of Essex. Click here for more information
23rd 4pm – 6pm: APS Reading Group: TBC